Build a Titan. Win a Prize.
// February 23rd, 2012 // Competitions, Dejobaan News, DRP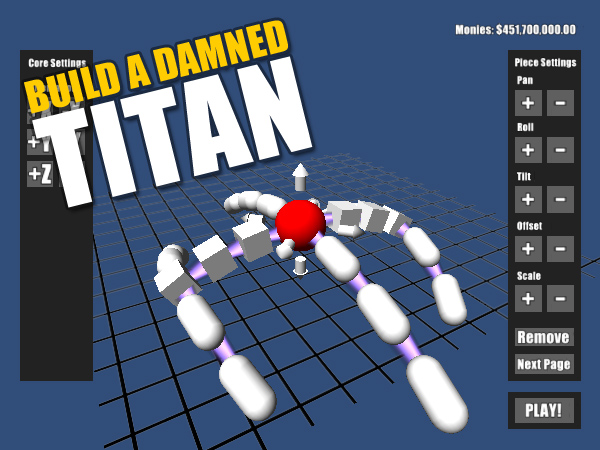 Titan orgies sound fitting for our first person, jetpack boosting, heavy bullet firing Drunken Robot Pornography prototype, and we're eager to see what folks can come up with!
Contest Time!
A Video
First, check out what Elliot does in this titan builder tutorial:
Da Rules
Step 1: Go to the Titan builder page (it may prompt to install a Unity plug-in).
Step 2: Make a Titan.
Step 3: Submit screenshots of your titan to stuff@dejobaan.com by March 2, 2012. Photos from more than one angle will help us judge.  If you submit more than one Titan creation, please label your photos appropriately.
We'll subjectively pick the best looking Titan,  based on the tingling sensations felt in our nether regions, and give its creator Steam codes for the Dejobaan Complete Pack.  Three runner-ups will each get one Dejobaan game of his or her choosing.
Legal fine print to make our lawyers happy because we're running a contest: All submissions become property of Dejobaan Games, LLC, and may be used in any fashion, including (but not limited to) printing microscopically on rice vermicelli for use in pho or other Vietnamese cuisine. Take that, law!